In 2022 Washington APEX Accelerator created a 10-part virtual training series covering the fundamentals and bidding process for Public Works contracting.  Each session has a PowerPoint presentation and support documents to enhance the learning experience.
If you are interested in viewing any of these sessions, select the session title, then "sign up". You will be directed to log in or register for our services. Once registered for the session, you have access to the recording and associated documents. All at no cost. 
If you have any difficulties logging in please contact training@washingtonapex.org.
Your local APEX Accelerator advisor is also available to support your learning with Public Works in dedicated 1:1 sessions.  If you need to connect with your local advisor here's the link to set an appointment. 
Public Works Fundamental Sessions:
Basics of Public Works Contracting
Types of Public Works Projects
Basic Requirements to Get Started
Project Delivery Methods
Contracting Relationships
Business Development
Have You Considered Certification
Finding Assistance – Resource Appendix
The Fundamentals of Public Works Contracting
Minimum Requirements
Labor and Industries (L&I) Requirements
Contract Documents
Small Works Projects
The Bidding Process
Payment Process
Know your Rights
Project Closeout Paperwork
Finding Assistance – Resources
Accounting Basics
Difference between profits and cash
Understanding your financial fitness
Managing growth and resources (good records)
Public Works requirements
Monitoring financial results
Establishing an advisory team
What is surety bonding?
Surety Bonds vs Insurance
Major Categories of Bonds
Public Works Contract Bonds
The 3 "C's" of Surety
Underwriting
Contractual Requirements
Commercial General Liability
Business Classification and Rating
Commercial Auto
Pollution Liability
Certificates of Insurance
Endorsements
Audit
Public Works Bidding Process Sessions:
Business plans
How to build a pursuit schedule
Go/No-Go Worksheet
Statement of Qualifications
Tips and Techniques of how to read through specifications
Flow down clauses
Direct Services vs Indirect Services
2 Part Agreement (Master and Special Provisions)
Extra Work Order
State Safety Regulations
The art of pricing
How to breakdown a contract
Preparing a bid
Estimating tools
Pricing
Submittal flow
Estimating structure
Components of a bid proposal
Pricing indirect
Pricing direct
Importance of Adds and Cuts
How to track Adds and Cuts
Project Manager
Small Tools and Supplies
Labor Burden
Risk
How to follow up properly after bid submission
Asking for a debrief
Public Disclosure procedures
Face to Face debriefs
Telephone debriefs
Stay positive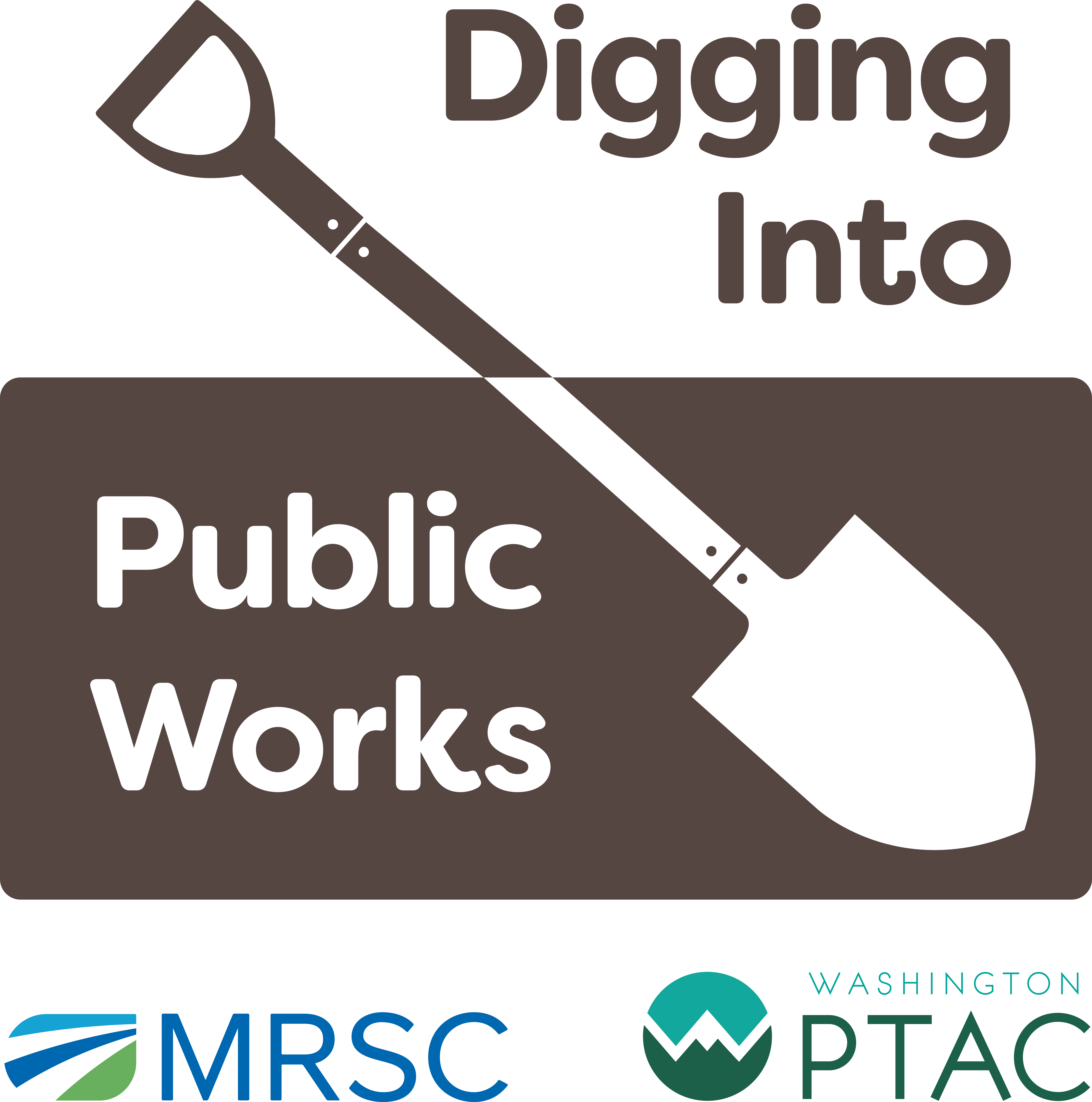 About the Instructors
The Introduction and Fundamentals to Public Works sessions are led by David Zeitlin and Tom Cole with SilverPhox Consulting.  These two instructors have many years of experience in the construction industry.  David has been a Project Manager and licensed architect focused on public works and primarily public-school construction for over 20 years. Tom's career has spanned 45 years as a commercial and industrial general contractor (estimator, project manager/executive, VP and partner).  These two sessions lay a solid foundation for many of the requirements needed to perform Public Works.
The Accounting Principles for Public Works session is led by Joan Baldwin of Baldwin Services.  Joan has 40+ years in Construction Accounting & Management and is was the Chair, Board of Directors, ABC NW 2002-2003.  Joan will share resources to build a stronger accounting foundation and show you what processes are need to be put in place to ensure requirements for documentation and reporting are met for Public Works.
The Bonding session is led by Kara Skinner with Integrity Surety.  Kara Skinner is a third-generation surety bonder with an extensive background in surety. Kara's grandfather Rod Skinner started in the surety industry back in the 1950s, and her father, Robert Skinner, has been a bond producer since the 1970s. Over the years, Kara has worked with many surety companies, retail agents, obligees, attorneys, engineers, and contractors. She has managed the surety bond department of a major insurance wholesale brokerage.
The Insurance session is led by Kristina Doer with DeFranco Insurance.  Kristina provides an insurance overview to prepare contractors with the tools needed to meet contractual requirements, in order to win public works contracts. The format of this training is based on an actual bid and there are tips on how to find all the requirements quickly.
The Bidding Process sessions are led by Mr. Young-Sang Song with Song Consulting and Catina Patton with PNW Diverse Solutions.  They both have demonstrated experience bidding and winning work in the construction industry and have taken the time to share their experiences on what works and what does not work.  For the last three years, Song has helped one DBE firm in Washington secure over $100 million in contracts and subcontracts using the recommendations shared during this 5-week training series.  Mr. Song will present all the aspects of how to bid public works opportunities and provide hands-on tools to support your learning and enhance your performance in future bidding.