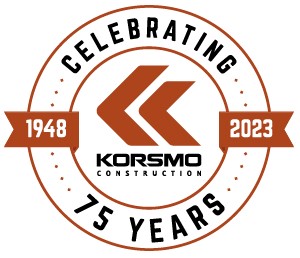 Korsmo Construction is a second-generation, family-owned general contracting firm founded in 1948. With over 75 years of experience in Tacoma and western Washington, Korsmo Construction delivers quality construction and preconstruction services.
Diversity, equity, and inclusion are at the core of what we do. Korsmo Construction seeks bids from all qualified and capable parties, including Minority-Owned, Woman-Owned, Veteran- and Disabled Veteran-Owned, and Small Business Enterprise firms.
Korsmo's Diversity, Equity, and Inclusion Mission Statement
Korsmo Construction is committed to learning, supporting, and investing in diversity, equity, inclusion, and access. We seek to cultivate and preserve a company where each of our employees is valued and empowered to bring groundbreaking plans to your next project. We are dedicated to creating stronger partnerships and better opportunities throughout our industry by doing our own equity work. We have a great responsibility to foster a culture where highly talented individuals with unique lived experiences can work and grow with pride both personally and professionally.
To be added to Korsmo Construction's subcontractor database, please complete the Subcontractor Questionnaire and return it to tlushaba@korsmo.com.
Korsmo Construction
Phone: (253) 582-6712
Fax: (253) 582-6788
General Email: info@korsmo.com
Estimating Email: estimating@korsmo.com
Bids: Bid Room
Subcontractors (General Information): Subcontractors | Korsmo
Website: www.korsmo.com
WA General Contractor Registration: JOHNKCI126BE
Sealed bids are being accepted for the following bid packages listed below: PROJECT: TCC – Center for Innovative Learning and Engagement (CILE Building) – Group
Read More »
Tacoma Public Schools Synthetic Field Bundle and Asia Pacific Cultural Center Subcontractor Outreach Event March 2nd, 4:00 PM-5:30 PM Event Location: Asia Pacific Cultural Center
Read More »
Bethel School District EVERGREEN ELEMENTARY SCHOOL Subcontractor Outreach Event April 6, 2023, 4:00 pm – 6:00 pm Evergreen Elementary School | Gymnasium | 1311 –
Read More »