DEADLINE: February 13th, 2023
A new contract opportunity for small architectural and engineering (A&E) firms has been posted on the System for Award Management (SAM, www.SAM.gov) for your consideration. The United States Department of Agriculture's Natural Resources Conservation Service (NRCS) recently released eleven Requests for Qualifications (RFQs) for small A&E Firms to provide design, planning, and assessment services with an emphasis on watershed conservation.
In support of the Biden-Harris Administration's efforts to foster equity and inclusion in the federal contracting space, we highly encourage all eligible minority A&E firms to apply. These contracts offer small businesses the opportunity to help us deliver our mission and implement vital conservation on the ground. NRCS welcomes minority engineering firms to compete for these opportunities. In support of Executive Order 13985: Advancing Racial Equity and Support to Underserved Communities, we are committed to removing any barriers to full and equal participation in agency procurement and contracting opportunities. Please do not let past experiences deter you from applying for this new opportunity.
This announcement is open only to small businesses. To be considered for an award, firms must be a small business as registered in the System for Award Management (SAM), and have at least one Professional Engineer and Professional Land Surveyor registered/licensed in each state of the region for which they are submitting. Limitations on subcontracting will apply as prescribed by FAR 52.219-14.
Responses are requested by February 13th, 2023.
The government anticipates an award of one single award task order contract (SATOC) for each of the 11 regions. Each award will have a total capacity of $20 million.  The contract type will be indefinite delivery-indefinite quantity, firm fixed price over a term of one base year and two 2-year option periods. There will be no specific delivery order limit except that of the contract limit. The minimum guarantee is $2,500.00.
For questions and more information, please contact: Kimberly.tripp@usda.gov, Contract Specialist
Below is a clickable interactive map illustrating the 11 regions requiring an RFQ along with a table for ease of access. One award will be provided for each region and a firm can submit an RFQ for more than one area. The deadline for submissions is February 13th, 2023. For additional information, view the www.sam.gov postings, or see the recent news release here.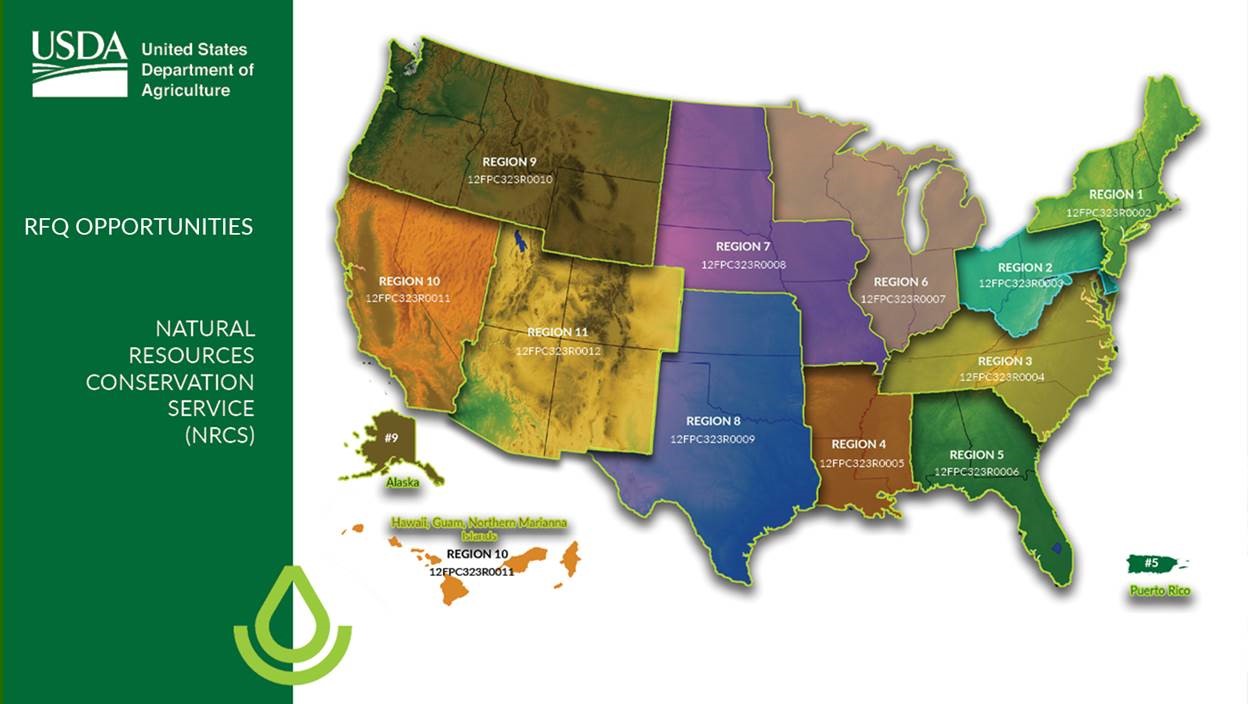 | | | |
| --- | --- | --- |
| Region | States/Territories | Solicitation Number |
| 1 | ME, MA, CT, VT, RI, NY, NH, NJ | |
| 2 | WV, OH, PA, DE | |
| 3 | VA, KY, TN, NC, SC, MD | |
| 4 | AR, MS, LA | |
| 5 | GA, FL, AL, PR | |
| 6 | WI, IN, IL MI, MN | |
| 7 | ND, SD, NE, MO, IA | |
| 8 | TX, KS, OK | |
| 9 | AK, WA, OR, ID, MT, WY | |
| 10 | CA, NV, HI, Guam, FSM | |
| 11 | UT, CO, AZ, NM | |