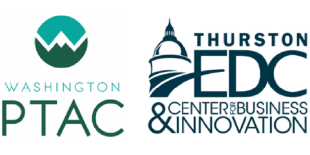 Washington Procurement Technical Assistance Center (PTAC)
Thurston Economic Development Council, Lacey, WA
PTAC Program Coordinator Position Description
Open Date: June 9, 2023
Resume/Cover Letter Due: Open until Filled
Position Location: Remote & Able to occasionally attend in-person events in the Central Puget Sound region
Position Title: Procurement Technical Assistance Center Program Coordinator
To Apply: Email the following to Tiffany Scroggs at programmanager@washingtonptac.org. Please include "PTAC Position" in the subject line of the email.
Cover letter tailored to the job posting explaining why you're interested in the position
Resume with detailed work history
Position Purpose:
The Procurement Technical Assistance Center (PTAC) helps businesses understand how to find, bid, win, and perform on government contracts so they can diversify their customer base and create jobs. The Washington PTAC has several locations across Washington State. The main office is located at the Thurston Economic Development Council in Lacey, WA.
The PTAC Program Coordinator joins a small team of experienced professionals who are passionate about enhancing businesses success in public procurement. The Program Coordinator will assist with database management, client intake, event coordination, website updates, social media postings, general marketing and communications, and more. Washington PTAC is going through a re-brand to Washington APEX Accelerator this summer. The Program Coordinator will be instrumental in the success of this transition.
About the Organization:
The Thurston Economic Development Council (EDC) is a private non-profit organization, governed by a 24 member Board of Directors. As the lead economic development organization in Thurston County our mission is to create a vital and sustainable economy throughout the county and region to support the livelihood and values of our residents. We do this by:
Connecting local businesses with experts and resources to help them remain competitive
Creating and delivering strategic messages to attract new investment to our community
Working with our community partners to enhance our collective prosperity
To learn more: www.thurstonedc.com and www.washingtonptac.org.
Position Responsibilities:
Client Intake & Advising –
Receive digital client intake forms and calls, assess fit for the program, enroll client in database, match to an advisor
Be the primary support for business clients needing System for Award Management (SAM) registration. Training provided.
Event Coordination –
Manage the Event Calendar: add events, ensure event listings are thorough and relevant.
Support Thurston EDC's event coordinator with Alliance Northwest, the premier government contracting event in the region on March 14, 2024.
Database Support –
Assist with database management and quality control of reportable data for funders and stakeholders
Query database for accurate reporting.
Send surveys to clients and ensure award data is added into the system.
Stay current on the new features of Neoserra and create training and communication for PTAC Counselors related to the database.
Run Queries for a specific opportunity outreach.
Update Constant Contact Subscribers monthly. Manage subscriber lists cross reference with database
Provide input to help inform decision making
Assist the PTAC program manager with counselor troubleshooting in Neoserra.
Other duties as assigned.
Communication & Outreach Support –
Work collaboratively with the PTAC leadership team to explore new, innovative ways PTAC can effectively communicate to its target clients and stakeholders.
Ensure website, event calendar and social networking sites are up to date with events, pertinent news or information, and contracting or subcontracting opportunities.
Prepare content for the twice monthly e-newsletter sent to 20,000 + subscribers.
Respond to general inquiries about the program via phone and email and refer clients to appropriate counselor or partner organization.
Represent PTAC program at in-person small business outreach events in the central Puget Sound region as schedule allows. These events are typical small business outreach events in the Seattle region where PTAC has a display table to meet and greet small business owners seeking government contracting assistance.
Follow up with training participants.
General administrative support
Required Skills and Experience:
Associate's degree or equivalent experience providing administrative and/or communications support in a professional office setting. Bachelor's Degree Preferred.
Excellent technical skills including Microsoft Office Suite (Word, Excel, Outlook, Publisher and Power Point), spreadsheets, and database entry/management. Familiarity with WordPress websites, Constant Contact & Facebook/LinkedIn desired, but not required. Washington PTAC uses a customized client management system created by Outreach Systems and will provide significant training to the successful candidate.
Desired Skills, Qualities and Experience
Strong customer service skills
Strong attention to detail and analytical thinking skills
Self-starter with the ability to prioritize and implement projects, frequently without step-by-step guidance
Ability to independently solve problems and find information using a variety of resources
Professional verbal and written communication skills
Experience or interest working in business development and/or government contracting
Familiarity with or willingness to learn basic government contracting terms and processes
Enjoy working in databases and supporting the team's need for accurate reporting and making data-informed decisions
Work well in a collaborative working environment as part of a team
Working Conditions:
Professional home office environment.
Daily use of a computer with a camera and reliable internet are required.
Some local travel to in-person events required.
PTAC has a strong team approach to delivering prodcuts and services to the community and businesses. The successful candidate should seek to foster this type of collaborative working environment.
Training on public procurement will be provided
The Thurston EDC is an equal opportunity employer and does not discriminate against an employee or client on the grounds of race, creed, color, national origin, age, sex, marital status, veteran status, sexual orientation or the presence of any disability.
Salary Scale: The position is a full-time, hourly position based on a standard 40-hour workweek. The hourly range is $24.00 – $28.80, depending on experience. The position is subject to annual leave and sick benefits, 3% matching IRA, as well as all other employee policies and benefits contained in the EDC Personnel Policy Manual.
To Apply: Email the following to Tiffany Scroggs at programmanager@washingtonptac.org. Please include "PTAC Position" in the subject line of the email.
Cover letter tailored to the job posting explaining why you're interested in the position
Resume with detailed work history
Questions from interested candidates are welcomed. Contact Tiffany Scroggs at 360-464-6041 or email at the address above.