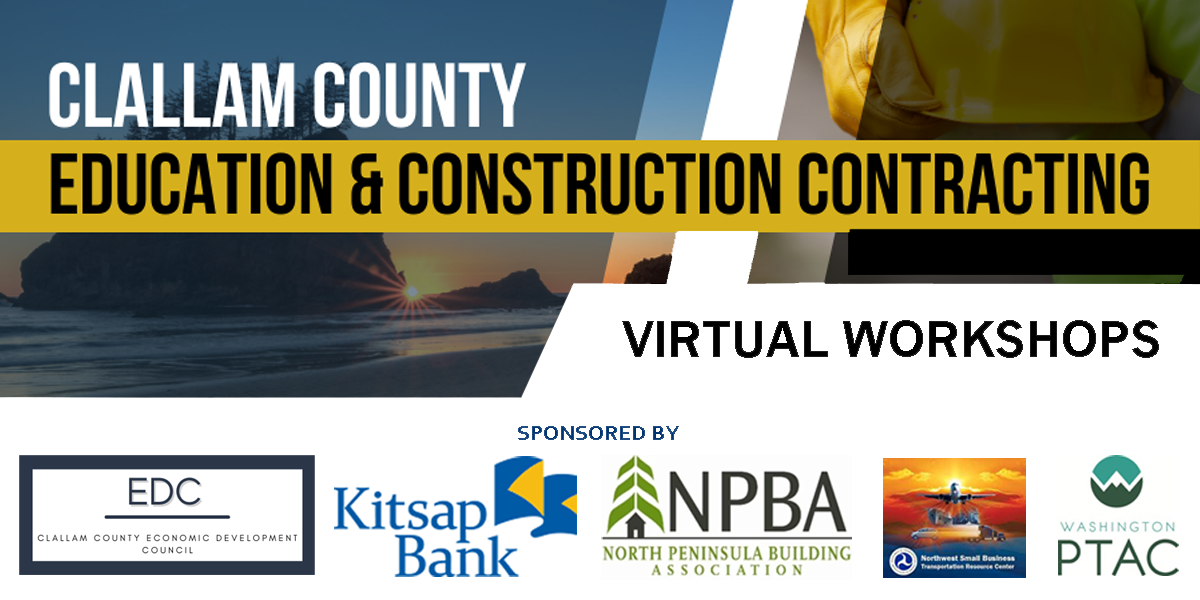 Washington PTAC and the Northwest Small Business Transportation Resource Center are pleased to present the following virtual training events, targeting firms on the Olympic Peninsula.  Thank you to the following partners: Clallam County Economic Development Council, Kitsap Bank and North Peninsula Building Association.
What: Quality training for businesses on various topics related to doing business with government entities and primes as well as bonding and construction.
Who: There are a total of 4 trainings targeted to construction firms within Clallam County. 
When: The first session begins January 19th and continues twice a week through January 27th.
Why: The training providers seek to increase government contracts and subcontracts to firms in the Olympic Peninsula region.
How much does it cost? Just your time. The training is offered at no cost as a result of federal funding provided by the US Department of Transportation and the US Department of Defense.
Next Step: Register today to secure your spot.
All Event Dates: January 19 – January 27, 2022
Times:
Classes – 8:00 am – 9:30 am (workshop including Q&A)
Location: Virtual Classes
The first TEN companies to register and complete ALL FOUR January workshops will
earn a paid-for membership to North Peninsula Building Association.
Thank you, SBTRC, for funding this opportunity!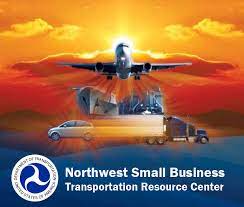 Wednesday – January 19, 2022

8:00 am – 9:30 am (workshop including Q&A)
 Procurement Agencies

– Local agencies will host this roundtable discussion on opportunities within Clallam County. Confirmed:

Federal Agencies – Local projects will be highlighted by Federal agencies.  Confirmed:
Thursday – January 20, 2022
8:00 am – 9:30 am (workshop including Q&A)
Bonding & Insurance – What surety bonds are and the various types of surety bonds, how to begin the process of obtaining a bond, the role of the agent/producer and underwriter, the prequalification process, the 3 "C's" – capital, capacity and character, the costs of bonding, and how to develop a surety bond relationship. Confirmed presenter: Integrity Surety – Kara Skinner
Wednesday – January 26, 2022 
8:00 am – 9:30 am (workshop including Q&A)
Accounting – costing to financial reporting – as well as construction-specific practices that introduce the contractors to construction accounting fundamentals. These fundamentals include debits and credits and how they work, accounting for job cost, work-in-progress (WIP) schedules, percentage-of-completion revenue recognition, and developing financial statements. Confirmed presenter: Clark Nuber – Peter Miller
Banking & Finance – Fed First Bank will provide updates on opportunities and resources for local small businesses. Confirmed presenter: Fed First Bank – Christine Walsh Rogers & Erica Slatt
Thursday – January 27, 2022
8:00 am – 9:30 am (workshop including Q&A)

Contract Attorney – Contracting Pitfalls, Business Planning. Confirmed presenter: Graham Ralston, Attorney
Bidding & Estimating – The capstone session covers methods of computing measurements, including off-the-shelf estimating software, metric conversions and essential mathematical formulas for estimating and planning construction projects, and preparation of bid documents.  It also covers such topics as plan reading, estimating and bidding, types of contracts (lump sum, cost plus fee, etc.), common contract forms, project planning methods, job costing and scheduling, management of subcontractors, the proper expedition of change orders, and measuring project. Confirmed presenter: Vanir Construction Management.
---
The originally scheduled Evening In-Person Networking Event
on this date has been postponed. It will be
rescheduled when it is safe for everyone to attend.
If you have any questions, please contact nwsbtrc@economicalliancesc.org for more information. 
THANK YOU TO OUR SPONSORS: